New York
CNN Business
 — 

Around the world, markets are flashing warning signs that the global economy is teetering on a cliff's edge.
The question of a recession is no longer if, but when.
Over the past week, the pulse of those flashing red lights quickened as markets grappled with the reality — once speculative, now certain — that the Federal Reserve will press on with its most aggressive monetary tightening campaign in decades to wring inflation from the US economy. Even if that means triggering a recession. And even if it comes at the expense of consumers and businesses far beyond US borders.
There's now a 98% chance of a global recession, according to research firm Ned Davis, which brings some sobering historical credibility to the table. The firm's recession probability reading has only been this high twice before — in 2008 and 2020.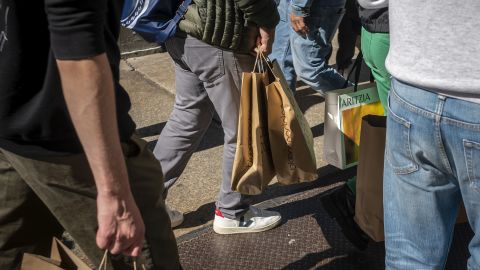 When economists warn of a downturn, they're typically basing their assessment on a variety of indicators.
Let's unpack five key trends:
The US dollar plays an outsized role in the global economy and international finance. And right now, it is stronger than it's been in two decades.
The simplest explanation comes back to the Fed.
When the US central bank raises interest rates, as it has been doing since March, it makes the dollar more appealing to investors around the world.
In any economic climate, the dollar is seen as a safe place to park your money. In a tumultuous climate — a global pandemic, say, or a war in Eastern Europe — investors have even more incentive to purchase dollars, usually in the form of US government bonds.
While a strong dollar is a nice perk for Americans traveling abroad, it creates headaches for just about everyone else.
The value of the UK pound, the euro, China's yuan and Japan's yen, among many others, has tumbled. That makes it more expensive for those nations to import essential items like food and fuel.
In response, central banks that are already fighting pandemic-induced inflation wind up raising rates higher and faster to shore up the value of their own currencies.
The dollar's strength also creates destabilizing effects for Wall Street, as many of the S&P 500 companies do business around the world. By one estimate from Morgan Stanley, each 1% rise in the dollar index has a negative 0.5% impact on S&P 500 earnings.
The No. 1 driver of the world's largest economy is shopping. And America's shoppers are tired.
After more than a year of rising prices on just about everything, with wages not keeping up, consumers have pulled back.
"The hardship caused by inflation means that consumers are dipping into their savings," EY Parthenon Chief Economist Gregory Daco said in a note Friday. The personal saving rate in August remained unchanged at only 3.5%, Daco said — near its lowest rate since 2008, and well below its pre-Covid level of around 9%.
Once again, the reason behind the pullback has a lot to do with the Fed.
Interest rates have risen at a historic pace, pushing mortgage rates to their highest level in more than a decade and making it harder for businesses to grow. Eventually, the Fed's rate hikes should broadly bring costs down. But in the meantime, consumers are getting a one-two punch of high borrowing rates and high prices, especially when it comes to necessities like food and housing.
Americans opened their wallets during the 2020 lockdowns, which powered the economy out of its brief-but-severe pandemic recession. Since then, government aid has evaporated and inflation has taken root, pushing prices up at their fastest rate in 40 years and sapping consumers' spending power.
Business has been booming across industries for the bulk of the pandemic era, even with historically high inflation eating into profits. That is thanks (once again) to the tenacity of American shoppers, as businesses were largely able to pass on their higher costs to consumers to cushion profit margins.
But the earnings bonanza may not last.
In mid-September, one company whose fortunes serve as a kind of economic bellwether gave investors a shock.
FedEx, which operates in more than 200 countries, unexpectedly revised its outlook, warning that demand was softening, and earnings were likely to plunge more than 40%.
In an interview, its CEO was asked whether he believes the slowdown was a sign of a looming global recession.
"I think…


Read More: 5 signs the world is headed for a recession